Get Multiple Electrical Quotes, Compare and Find Electricians in Your Area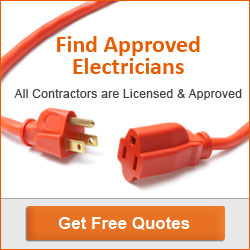 Are you in the dark as to how to find a reliable licensed electrician? You'll be happy to know that I was introduced to the Electricians Networks the other day. They can help by connecting you with professional certified electrical contractors in your area. They pre-screen each and every electrical contractor on their site so that you can be sure you are dealing with a qualified electrician who is skilled, professional and licensed, ensuring that your job will be completed properly.
All you have to do is tell them your electrical needs and they will connect you with the top electricians in your area. You can choose to have the electrical contractors give you a quote over the phone, or you can submit a request online and get multiple estimates. Either way you will get an immediate call back or a quick email response. Their electricians are available 24 hours a day and they will be there for you in case of an electrical emergency or even just for a maintenance job that requires immediate attention. No waiting and no worrying, just a job done fast and professionally.
All of their electricians are state licensed, reviewed & rated by homeowners and follow the Networx Quality Code. The Electricians Networks is also a Better Business Bureau (BBB) Member with an "A" rating.
How does their service work?
You visit their site, fill out a form and your information (contact info, type of service needed, comments etc…) are all sent via a real-time text-message directly to the cell phones of the licensed contractors they have servicing the area. The contractor now has a real-time service request and it is up to him to call the customer and offer his services.
Electricians Networks follows up with an email to the customer within a few hours asking if they heard from all of the contractors. If not, they can send a reminder which will notify the contractors again. The lead is sent to a maximum of 4 contractors in the area. They have contractors in most metropolitan areas. The customer can be assured that their getting a fair price from the contractor and can choose the contractor of their choice.
There is no commitment necessary from you to use their service. It's a resource for you to find the right contractor for the job. Many homeowners feel more comfortable having the contractor contact them. Some people have emergencies and need someone right away, others are looking for a contractor they feel comfortable with, and of course some people are looking for the best value for their buck.
I haven't used the Electricians Networks' service before, nor do I know of anyone that has. However, I think that it is a good resource for the readers of this site. I get lots of emails from people all of the time asking me if I know of an electrician in their area and I usually have to reply that I do not. Now I can refer everyone to this service.
Have you used any of the Electricians Networks' services before? What did you think?
Do you need assistance with your electrical wiring project? Please visit my DIY Electrical Wiring Help from a Master Electrician page. Where I provide electrical wiring tips, expert electrical advice, answers to your electrical questions and electrical consulting & design services over the phone, via instant messenger or via email.
If you enjoyed this post, make sure you subscribe to my RSS feed or receive updates via email. You can also follow me on Twitter and "LIKE" me on Facebook.
Similar Posts: