Today is the first day of the SKIL tool giveaway over at One Project Closer. Today's giveaway is for the SKIL 5 inch random orbit sander – Model #7492-01.
Pressure Control Technology warns user when excessive pressure is applied
Random Orbit Action for faster stock removal
Pad brake creates a gouge-free finish
Micro-filtration captures and contains fine dust particles
Clear View Dust Canister removes guess work of when to empty canister
Built-in vacuum port maximizes dust collection
Comes with three sanding discs
Everyone could use a random orbit sander in their tool collection. You should go enter the SKIL Tool Giveaway | Monday | Random Orbit Sander now. The contest ends tonight at 8 PM EST. Be sure to check their blog each day this week as they will be giving away a new SKIL tool each day this week.
It is supposed to be real nice this weekend here in southwest Montana. It is supposed to be sunny with highs in the mid to upper 70s. So this means yard work for me. I have about an acre and a half to mow. So, I need to get the riding mower, push mower and weed whacker out to tune them up and sharpen the blades to get them ready for another season of mowing.
I'm also going to build a portable wall that I can use to explain DIY electrical wiring projects better. I need to get some materials for the next segments of How to Wire a Recreation Room in Your Basement as well.
This means a trip to Home Depot or Lowes for materials. While Home Depot and Lowes have good prices on most of their items, it is always nice to save even more when shopping there. I've been reading One Project Closer for a few weeks now and I've noticed that they are offering Home Depot coupons and Lowes coupons. The coupons are good for 10% off in each store. I know that I'm going to print some off to use today.
How about you? Are you working on any DIY home improvement projects this weekend?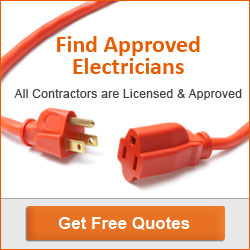 Are you in the dark as to how to find a reliable licensed electrician? You'll be happy to know that I was introduced to the Electricians Networks the other day. They can help by connecting you with professional certified electrical contractors in your area. They pre-screen each and every electrical contractor on their site so that you can be sure you are dealing with a qualified electrician who is skilled, professional and licensed, ensuring that your job will be completed properly.
All you have to do is tell them your electrical needs and they will connect you with the top electricians in your area. You can choose to have the electrical contractors give you a quote over the phone, or you can submit a request online and get multiple estimates. Either way you will get an immediate call back or a quick email response. Their electricians are available 24 hours a day and they will be there for you in case of an electrical emergency or even just for a maintenance job that requires immediate attention. No waiting and no worrying, just a job done fast and professionally.
All of their electricians are state licensed, reviewed & rated by homeowners and follow the Networx Quality Code. The Electricians Networks is also a Better Business Bureau (BBB) Member with an "A" rating.
How does their service work?
You visit their site, fill out a form and your information (contact info, type of service needed, comments etc…) are all sent via a real-time text-message directly to the cell phones of the licensed contractors they have servicing the area. The contractor now has a real-time service request and it is up to him to call the customer and offer his services.
Electricians Networks follows up with an email to the customer within a few hours asking if they heard from all of the contractors. If not, they can send a reminder which will notify the contractors again. The lead is sent to a maximum of 4 contractors in the area. They have contractors in most metropolitan areas. The customer can be assured that their getting a fair price from the contractor and can choose the contractor of their choice.
There is no commitment necessary from you to use their service. It's a resource for you to find the right contractor for the job. Many homeowners feel more comfortable having the contractor contact them. Some people have emergencies and need someone right away, others are looking for a contractor they feel comfortable with, and of course some people are looking for the best value for their buck.
I haven't used the Electricians Networks' service before, nor do I know of anyone that has. However, I think that it is a good resource for the readers of this site. I get lots of emails from people all of the time asking me if I know of an electrician in their area and I usually have to reply that I do not. Now I can refer everyone to this service.
Have you used any of the Electricians Networks' services before? What did you think?
I'm sure a lot of you have noticed that I have made lots of changes to this site lately. I've gone through and deleted some old posts with broken links. Worked a little on some design changes and added a few new pages. I'm also starting to experiment and play around with video. I hope to launch my first video soon. However, there is still a lot of work to do.
I'm making all of these changes in an attempt to make this site look more professional and get noticed by some of the "big guys". Well, it looks like it worked because Brian and Paul from The Handy Guys Podcast invited me to come on their show. If you haven't heard of them, you should visit their site. They do kind of an online radio show once a week. You can listen to their show online or your favorite MP3 player. It's a good show. I usually hit their site on the weekend and listen to their most recent podcast in the background while I'm doing something online.
On the podcast we talk about Ez DIY Electricity and the services I offer as well as answer a few electrical questions. Click on the following link to listen to the podcast: The Handyguys and the Master Electrician.
On a side note, I've also started writing for one of the "big guys" Charles and Hudson. Timothy Dahl describes his site as "Charles & Hudson is an independent resource for do-it-yourself enthusiasts seeking the latest in home improvement tips and techniques as well as the finest tools and hottest news in the home building industry."
I wrote: 5 Simple Steps to Installing Electrical Outlets and How to Move a Single Pole Light Switch so far.
I launched a new website on September 1. However, I have spent the last 30 days working the bugs out of it. It is finally fully operational. There are a few more things I want to do to it and then I need to add lots of tools. This is the press release which is going out to all of the press release sites to announce the new site today.
Regardless of whether you are an experienced electrician or a novice looking to work on your home, the right tools can make your project much easier to complete. Therefore having a website that you can go to, which will have the right tool for the job can be a godsend. Add to that a website which offers you expert advice and suddenly, rewiring that house doesn't seem as hard anymore. This is all thanks to Wayne Gilchrist.
Wayne Gilchrist, a Montana licensed master electrician and the founder of Ez DIY Electricity.com, has introduced another stepping stone to make wiring easier and safer by bringing you The Electrical Tool Store.com.
Wayne, having over 22 years of experience in the electrical trade, runs ezdiyelectricity.com, a site which offers electrical wiring tips, expert electrical advice, answers to your electrical questions and electrical consulting & design services to homeowners in the U.S. and Canada. Following the success of this site, Wayne is now launching theelectricaltoolstore.com on October 1, 2009, a website which caters to customers looking for electrical wiring tools, coaxial cable installation tools and phone & data wiring tools.
With a master electrician license and over 22 years experience in the electrical trade, Wayne has hands on experience with the types of tools that would be needed for various electrical wiring projects. There is nothing worse than starting a project and realizing that you haven't got the right tools or are missing some essential tools halfway through the project. At The Electrical Tool Store.com, you will be able to find all the electrical tools you need to complete your next electrical wiring project.
The Electrical Tool Store.com will offer monthly discounts on various tools, bringing down the prices to make it easier on your wallet. The site also encourages you to sign up for the newsletter. The newsletter provides member only benefits like discounts, early sale notifications and more. The Electrical Tool Store.com is a Comodo positive SSL secured website and payment is made easy with a number of options such as Discover, MasterCard, Visa, PayPal, check and money order being made available.
It is relatively simple to navigate through the site. The products available are divided into categories such as coaxial cable tools, electrical tools and voice & data tools; which will save you time on having to search for the products you need. If you find yourself needing help, then you can always visit the site map, use the contact form or the live help module for further details. Additionally, it is possible to purchase gift certificates at The Electrical Tool Store.com.
To visit The Electrical Tool Store, simply go to: https://www.theelectricaltoolstore.com